Reconnect
If you need power at a location that currently has a meter or had a meter in the past, please contact our member service department. Member services can also assist with name changes and transfers.
Be prepared to answer the following questions:
Is there currently a meter or a transformer at the location?
What will the meter serve, and what is the 9-1-1 address of the service?
Please contact one of our offices for reconnection of service.
New Connect
All new or current members needing NEW SERVICE or wanting an existing service RELOCATED must first contact the staking superintendent at (830) 780-3952. After reviewing your request, staking will call to schedule an appointment to meet with you at your location. If you are unable to keep your appointment, please call the staking superintendent at least 24 hours in advance.
Be prepared to answer the following questions at the meeting:
What will the meter serve?
Where will the structure(s) be located? If you are capable of emailing a Google Earth .kmz file, that shows the structure's location, please let us know.
What size of service is requested to serve the electrical load? Please provide Horsepower, kVA, Voltage or Amp requirements.
Where will the meter be located (installed on the structure or the meter pole)?
Where do you want the construction estimate to be mailed?
The staking technician will report to the staking superintendent and the engineering department. The engineering department will mail a construction cost estimate to the address you provide.
After receiving your construction cost estimate, the following requirements must be met before New Service can be scheduled for construction:
A membership application packet including a right of way easement will be mailed upon your request. Please execute and return the original forms along with the Total Amount Due. The applicant will be responsible for providing Karnes Electric Cooperative, Inc. with all easements.
The applicant for permanent commercial service may be required to pay a deposit as determined by the cooperative.
After the payment and paperwork are received and all easements are secured, a staking technician will stake the job and submit it to the operations superintendent who will schedule the job for construction.
The cooperative will make good a faith effort to complete the project in a timely manner, but the completion of the facilities and the initiation of service will depend upon circumstances beyond the control of the cooperative.
The applicant is responsible for everything below the meter. Once your disconnect box is installed, call Karnes Electric to schedule a serviceman to inspect the connection. If it is approved, the serviceman will energize your meter. If the disconnect box is improperly installed and a second trip is required to energize the meter, a $50.00 service charge will be applied to your next bill.
did you know?
smarthub® — what you need to know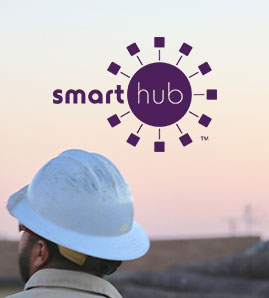 You can now manage your electric account with your mobile device or… READ MORE >
did you know?
smarthub® — what you need to know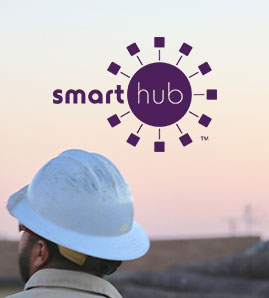 You can now manage your electric account with your mobile device or… READ MORE >